4F27E Ford Bushing Kit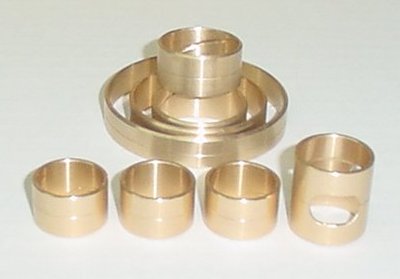 Omega Machine & Tool Inc. is pleased to announce the immediate availability of a new bushing kit for the 4F27E transmission. One of the identified problems with this transmission is wear of the rear stator bushing, causing loss of TCC apply pressure. The new rear stator bushing, seen in the picture front row, far right, included in this kit, is a one piece design similar to the original one piece E40D case bushing first designed and produced by Omega Machine & Tool Inc. in 1994. This bushing addresses the trouble code P0741 which is the TCC stuck off.
| | |
| --- | --- |
| 2 - 92408 High Clutch Hub | 1 - 92449 Reverse sun gear |
| 1 - 92429 Rear Stator | 1 - 92423 Converter bushing |
| 1 - 92437 Rear Support | 1 - 92448 Reverse clutch drum |
| 1 - 92408 Output sun gear | |
Part # 92500
Newsletter Sign-up
One of the most efficient ways to stay in touch with our customers is through our newsletter. Usually we send it out monthly. We try to email only when we have a new product to announce. We promise never to sell or use your information for anything other than keeping you informed about what is going on with Omega Machine & Tool Inc. Sign up on the form on the lower right side of this page.
Translate this Page