Borg Warner 4473, 4481, 4482, 4484 Bushings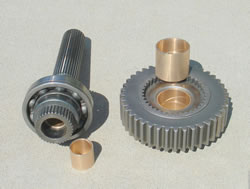 Omega Machine & Tool announces our latest bushings. No more digging through cores to find a gear or shaft with a good bushing in it.
These cases are known for having sloppy fits where the front and rear shafts fit in the case. Add to that the BW4473, BW4481, BW4482 and BW4484 transfer cases wear out the bushing in the drive gear, the pilot bushing in the end of the rear output shaft and pretty soon you have so much slop in the gear train all sorts of things start happening.
Restore the transfer case to like new condition with new bushings.
Part # 39500
Newsletter Sign-up
One of the most efficient ways to stay in touch with our customers is through our newsletter. Usually we send it out monthly. We try to email only when we have a new product to announce. We promise never to sell or use your information for anything other than keeping you informed about what is going on with Omega Machine & Tool Inc. Sign up on the form on the lower right side of this page.
Translate this Page