Steel Sleeves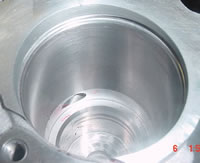 Whether it is the problem of hard part prices going up or good used hard parts becoming too difficult to find, often you can solve the problem by resleeving it. We manufacture many different steel sleeves for this purpose. They are used in the repairing of many different types of transmission drums, cases and housings.
If you have a production run of cases, housing or drums to repair or only need one sleeve, let us know and we can provide you with the correct sleeve for your job.
Search By Transmission Type at Right
| Part Number | Description |
| --- | --- |
| 74341 | Ford Case Sleeve: 80-93 Ford: T-Bird, T-Bird Super, Mercury, Cougar, XR7; 83-86 LTD; 84-93 Mustang; 84-86 Capri; 80-85 Marquis; 80-81 Lincoln, 82-93 Continental; 80-93 Mark VI, VIII; 82-93 Town Car; 91-Up Vans, Trucks E & F, Bronco. |
| 74343 | Ford Electronic and Wide-Ratio Case Sleeve: 92-95 T-Bird, T-Bird Super, LTD, Mercury, Cougar, XR7; Mustang; Capri; Marquis; Lincoln, Continental; Mark VI, VIII; Town Car; Vans, Trucks E & F, Bronco. |
| 35349 | Chrome-moly sleeve for AXOD Channel plate. 88-Up Lincoln Continental, 86-Up Sable (various), Taurus (various); 91-Up Taurus SHO |
| 46341 | Governor bore repair sleeves. Widely used in 87-up Post Office. Fixes the ring cut area of the governor bore. vehicles LLV; 77-87 Buick Opel, Chevette, Pontiac T-1000; 90-Up GEO Tracker ; 77-87 Australian Holden, South African Ranger; Alpine, Peugeot 604, German Straussbourg, Vauzhaul, Zimmer Motor Home, Suzuki Sidekick; SOME 77-82 Fiat. |
| 66341 | 91-Up Aerostar Van 2/4WD, Wagon 2/4WD, Bronco 2/4WD, Ranger, Ranger II 4WD, Starlight van, European Granada & Sierra, Mustang & T-Bird, Explorer 2/4WD, Mazda Navajo 4WD w/4.0L. |
| 76341 | Toyota A40 SERIES governor bore sleeve chrome-moly. Fits American Eagle/Southeast Tool |
| 74348 | Ford STATOR support sleeve chrome-moly See applications for AODE Governor Bore Sleeve (Machining required) |
| AXODCC-B | Bronze sleeve for AXOD channel plate Fits American Eagle/Southeast Tool |
| 31356 | AW55-50-51SN case repair sleeve. |
| 33353 | 4L80E forward drum repair sleeve. |
Newsletter Sign-up
One of the most efficient ways to stay in touch with our customers is through our newsletter. Usually we send it out monthly. We try to email only when we have a new product to announce. We promise never to sell or use your information for anything other than keeping you informed about what is going on with Omega Machine & Tool Inc. Sign up on the form on the lower right side of this page.
Translate this Page