U140/240 Bushing Kit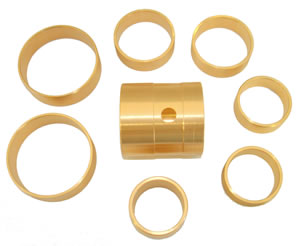 The Toyota U140 and 240s have been lacking a bushing kit for some time. Omega Machine & Tool, Inc. now has a 8 piece kit for these transmissions.
Part # 32500
Fits

Contains

Alphard 02-08
Avalon 00-05
Camry 02-03
Celica GTS 00-05
Corolla 08-14
Corona 00-01

Estima 00-06
GAIA 00-05
Harrier 00-03
Highlander 01-07
Ipsum
Kluger 00-03

Front Stator Bushing - 32428
Sun Gear Bushing - 32431
(2) Under-drive Direct DrumBushing - 32515
(2) Forward Hub Bushing - 32516
(2) Rear Planet Bushing - 32418
Newsletter Sign-up
One of the most efficient ways to stay in touch with our customers is through our newsletter. Usually we send it out monthly. We try to email only when we have a new product to announce. We promise never to sell or use your information for anything other than keeping you informed about what is going on with Omega Machine & Tool Inc. Sign up on the form on the lower right side of this page.
Translate this Page