RE5R05A Nissan Bushing Kit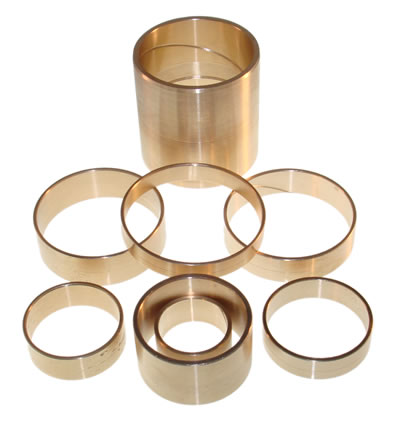 The bushing kit for the RE5R05A is composed of one pump bushing, two center sun gear bushings, one large one small, one input, one extension housing, one rear sun gear bushing, two high/low drum bushings and one rear case bushing. It is used in a wide range of different cars and trucks.
Part # 59500
Fits

Contains

Armada 04-14
Atlas 12-14
Caravan 07-14
Cima 00-11
ElGrand 00-10
FairLady 02-08
Frontier 04-14
Fuga 04-09
Navara 05-14

NV Series Van 11-14
Pathfinder 05-13
Patrol 10-14
Safari 03-14
Skyline 01-09
Stagea 01-07
Titan 04-14
Z 03-08

Input bushing - 59413
Center Sun Gear, small - 59507
Center Sun Gear, large - 59449
Case bushing - 59401
Front sun gear - 59501
Extension housing - 59411
Pump/Converter - 59423
Rear sun gear - 140449
High/Low Drum - 59603
All bushings are available separately.
Newsletter Sign-up
One of the most efficient ways to stay in touch with our customers is through our newsletter. Usually we send it out monthly. We try to email only when we have a new product to announce. We promise never to sell or use your information for anything other than keeping you informed about what is going on with Omega Machine & Tool Inc. Sign up on the form on the lower right side of this page.
Translate this Page