Transmission Tools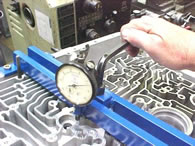 Omega Machine and Tool Inc. manufactures tools for the transmission industry. While this isn't a huge part of our business, we have some very special tools to make your life easlier.We pride ourselves on having a reputation for quality and dependabilty that is second to none.
We are always looking for ways to keep the transmission tech ahead of the curve and using the correct tool for the right job is one of the ways to be sure life doesn't throw you an unnessary curve ball.
Whether you're looking for a bushing, bushing kit, hard part or tool, use the search box on the right side of this page to find listings for all of our products by transmission type.
| Part Number | Description |
| --- | --- |
| 15312 | 700 Seal E-Z tool. Two piece set for easy installation of forward and 3-4 clutch drum piston seal. |
| 66311 | A4LD Lever Bore repair tool kit. Fixture plate, 7/8 reamer, bushing driver, five solid bronze bushings, cutting solution concentrate. |
| 66315 | A4LD bushing stabilizer tool. |
| 24313 | Honda two and three shaft transmission, clutch feed pipe bushing extraction tools. This will remove and replace all the bushings in the Honda transmission. Bushings sold separately. |
| 85320 | 4R55E-5R55E Front Stator Teflon ring sizing tool. |
| 73320 | E40D-4R100 case straightening tool. When the valve body area is concaved by over-tightening the center support, our tool pulls the surface back to flat. |
| 99321 | N.P. 246 transfer case front seal installer. |
| 18322 | 5R55N,W,S converter alignment tool. This tool centers the adapter on the converter. |
| 90330 | 09G TF60SN C2 Clutch Drum Bushing Repair Tool |
| 31333 | Our tool works with the AW55-50SN, AW55-51SN, 09D, 09G, AF21/TF81 & TF80 transmission pressure control solenoids |
| 99328 | Transmission Teardown Bench. Available in 6 and 8 ft lenghts. |
| 99331 | Movable Drain Cart.These carts will hold over 18 gallons of fluid and are great for keeping the floor clean on a pan drop. |
| 19800 | Honda bushing reamer Sometimes when the bushings are pressed into the shaft, a slight deforming of the I.D. of the bushing takes place. Use a reamer to restore the roundness of the bushing. |
| 31342 | The Toyota SLT/SLU tool is sold as an add-on to the AW55-50SN tool. This tool is for the solenoids in a Toyota A750E,F / Lexus A761E transmission. The base from your original tool is used along with these new pieces. |
| 551580 | AW55-50SN Solenoid bushing reamer.The solenoid bushings sometimes require a small touch up with a reamer after being installed in the solenoid. This reamer is for the AW55-50SN solenoid bushings. |
| 551581 | 09G Solenoid reamer.The solenoid bushings sometimes require a small touch up with a reamer after being installed in the solenoid. This reamers is for the 09G solenoids |
| 70331 | Subaru 4EAT stator bushing installation tool for the front and rear stator bushings. |
| 98325 | 5L40E planetary bushing installation tool. Part number 98325. |
| 150331 | 5R110W Torque Shift Direct Drum Bushing installer. The 5R110W bushing we make takes the place of two narrower bushings and provides added support for those heavy duty transmissions. A suitable bushing installer/driver helps to ensure a correct fit |
Newsletter Sign-up
One of the most efficient ways to stay in touch with our customers is through our newsletter. Usually we send it out monthly. We try to email only when we have a new product to announce. We promise never to sell or use your information for anything other than keeping you informed about what is going on with Omega Machine & Tool Inc. Sign up on the form on the lower right side of this page.
Translate this Page