Videos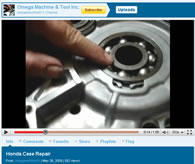 As the saying goes, one picture is worth a thousand words. To that end Omega Machine and Tool Inc., when possible, likes to use pictures and or videos to explain problems and their solutions. Some of us are visual learners and a video with a step by step walkthrough of a solution or problem is a very effective way of explaining a transmission problem or repair proceedure.
If you have videos of transmission problems or procedures you would like to share with the work, send us a link and we would be glad to place it here with our other videos.
Newsletter Sign-up
One of the most efficient ways to stay in touch with our customers is through our newsletter. Usually we send it out monthly. We try to email only when we have a new product to announce. We promise never to sell or use your information for anything other than keeping you informed about what is going on with Omega Machine & Tool Inc. Sign up on the form on the lower right side of this page.
Translate this Page