ZF5HP19 Bushing Kit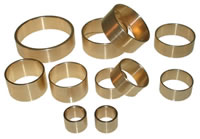 ZF5HP19 bushing kit. No machining is required. Fits the ZF5HP19, FL, FNL, FLA, HL, and HLA. We have standard size pump bushings as well as oversized bushings for repairing pump bodies that have spun bushings. If you would like we can repair your pump bodies for you.
Part # 83500
Fits

Contains

01-03 BMW E46 330Ci
00-03 BMW E46 320i
2000 BMW E46 323Ci
02-03 BMW Z4 2.5i

E clutch drum - 83441
Sun gear shaft - 83440
Front stator - 83428
Rear stator - 83429

Sun gear shell - 83529
Overdrive hub - 83528
Inner sprag race - 83513
Converter bush - 83423
Newsletter Sign-up
One of the most efficient ways to stay in touch with our customers is through our newsletter. Usually we send it out monthly. We try to email only when we have a new product to announce. We promise never to sell or use your information for anything other than keeping you informed about what is going on with Omega Machine & Tool Inc. Sign up on the form on the lower right side of this page.
Translate this Page